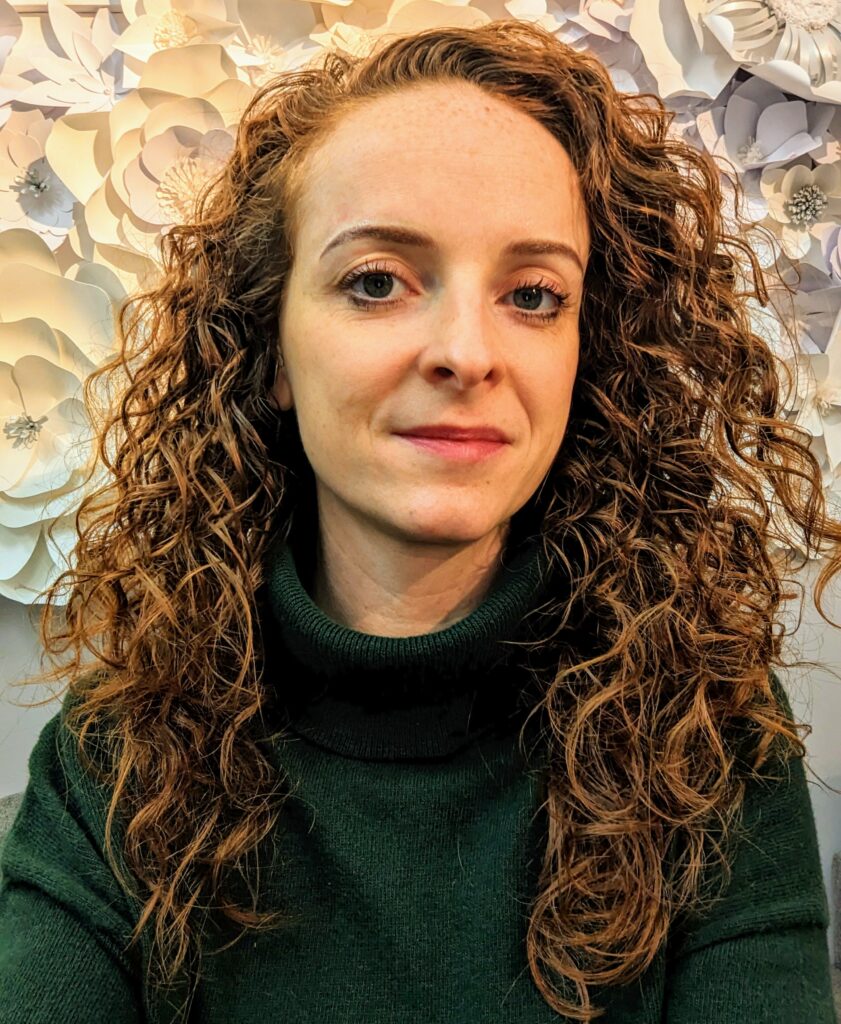 Hi! My name is Klara Hermesz; I have lived in Seattle, US, since 2018, but originally from Hungary. As a Learning Program Manager at Meta (formerly Facebook), I support the Recruiting organization. Passionate about learning, talent & career development, pathway programs, and creating access to education for underserved and underrepresented people. I enjoy building meaningful, measurable, and scalable learning initiatives.
#1 Bonjour Klara, a real pleasure to speak with you today! How are you? What are your activities at the moment?
So excited to finally do this interview with you. I am doing well, thank you!
I have been busy planning for the year and setting personal and professional goals. I like to start with some intention setting, reevaluating my values, and finding specific focus areas I will work on throughout the year.
I have been focusing on building healthy habits, like daily meditation, exercise, healthy eating, setting learning goals, reading, and rest.
I am constantly researching something, and right now, I am curious about how to build and design immersive learning experiences (in XR or mixed reality), which is a super exciting topic.
#2 It has been a long and successful journey. Congratulations! Could you guide us through your career since you left your home country? Please briefly guide us through your career and how you joined Meta in Seattle from your starting point in Budapest more than 10 years ago.
It has been a fun adventure, for sure!
Back home in Budapest, Hungary, I mainly worked in the recruitment industry. To this day, one of my favorite roles was to help build the first European Sourcing Center at Randstad Sourceright, along with Balazs Paroczay and many others. That role taught me about project and client management, building processes, onboarding, training, and more. As much as I loved my team and the projects I was working on, I had an inkling to "see the world."
When I moved to Ireland, I clearly remember walking by the Facebook office and feeling that my goal would be to work there one day, and not too long after; I interviewed for and got a job. My first role was super cool; I supported the EMEA Recruitment Team as a Mentor, Coach, and Trainer with onboarding, training, tools testing, and talent mapping.
In 2017 I led the first Sourcer Development Program in EMEA.
After a year, an opportunity presented itself to move to the US, so I moved internally. Never in my wildest dreams did I think of moving to America. But sometimes, you must be brave and go for it. In May 2018, I moved to Seattle. I was in various different learning roles, but the highlight of my career was leading one of Meta's pathway programs, called the Sourcer Development Program, globally for almost two consecutive years, where we onboarded ~200 participants.
#3 You are currently creating and executing the metaverse learning strategy for the recruiting organization at Meta. Please help us understand what it exactly means.
As a Learning Program Manager, I created a vision and a learning strategy to support Recruiting in understanding the metaverse.
I love simplifying complex things, so I built this easy framework: Learn -> Explore -> Explain. First, you need to learn the basic terms and build fundamental knowledge. Then, explore it by putting on a headset and join immersive experiences. Last but not least, you need to be able to explain this to others and, most importantly, to candidates.
#4 You switched to a fully remote set-up from one day to another. Could you describe how it has impacted your work and whether you find it beneficial?
Most of my team has always been in the Bay Area, so I have been remote for 5 years.
I thrive in a remote-first environment because I can be more intentional with my time. I appreciate that I don't have to commute for hours and enjoy wearing comfortable pants all day 🙂
I ran the Sourcer Development Program in an entirely virtual environment, which taught me a lot about the pros and cons of remote-first. I learned a lot about how to build an online learning community where people have a sense of belonging.
#5 Onboarding remotely can be challenging: What's your most innovative advice?
Love this question!
During my career, I have seen that onboarding programs thrive when you foster an environment of psychological safety and help create a sense of belonging.
I like introducing the idea of a growth mindset at the very beginning, which helps people understand that it's a safe place to ask, fail quickly, learn, and grow.
Sense of belonging can be strengthened by providing space for people to get to know each other, learn, solve problems together and create a sense of community, even if it is virtual.
These might not be the most innovative ideas, but sometimes getting the basics right can go a long way!
#6 Artificial Intelligence is already here in many sectors. Do you see it applicable in L&D and/or onboarding?
I love to be an early adopter of new technology! It requires a lot of patience to stick with it, especially if it is still clunky. With AI, I have been curiously waiting to see what everyday usage will look like, and it's happening quicker than we think. The question is no longer "if" but "when and how" it will be applied in different industries. So yes, I see it applicable in L&D as well.
"AI has huge potential in the field of Learning and Development as well as the onboarding process. For instance, chatbots that are run on AI can assist new hires 24/7 during onboarding by answering their queries and providing them with proper guidance. Similarly, AI-powered personalized learning systems can help suggest training and development resources to employees based on their specific needs and progress" – this last part was written by ChatGPT itself 🙂
#7 Klara, can you give me one song, one book, and one movie that gives us some insight into who you are and what inspires you?
Song: Jacob Banks: Slow Up. Do you know those live music experiences that stay with you for years? That is Jacob Banks for me. I saw him live in Seattle a couple years ago and still remember the goosebumps. I was in awe of how effortless his deep baritone singing looked.
Book: Ernest Cline: Ready Player One: I genuinely appreciate a well-written sci-fi book to let my imagination fly. It's a really engaging story about virtual reality.
Movie: Memento: I have always been obsessed with how our brain works, how we learn and create memories. This has been one of my favorite movies, mainly because it is about our brains. It captures how fascinating memory creation is or the inability of it. I admire this movie's non-linear nature; you have to put the puzzle pieces together, just like the main character
Lastly, what can we wish you for, this year?
Thank you, this has been fun!
The number one thing is health; everything else comes after 🙂
Professionally, I want to grow as a Learning Expert by continuing to build measurement-first and skills-based talent and career programs.
I am also excited to learn more about social entrepreneurship and how I can give back by solving important social issues, like access to education.
Personally, I would like to keep up with my healthy habits: exercise & find time to rest, create mindful moments & find adventure, read & write.
It has been a real pleasure! Thank you for answering our questions.
Date of Interview: Mars 2023