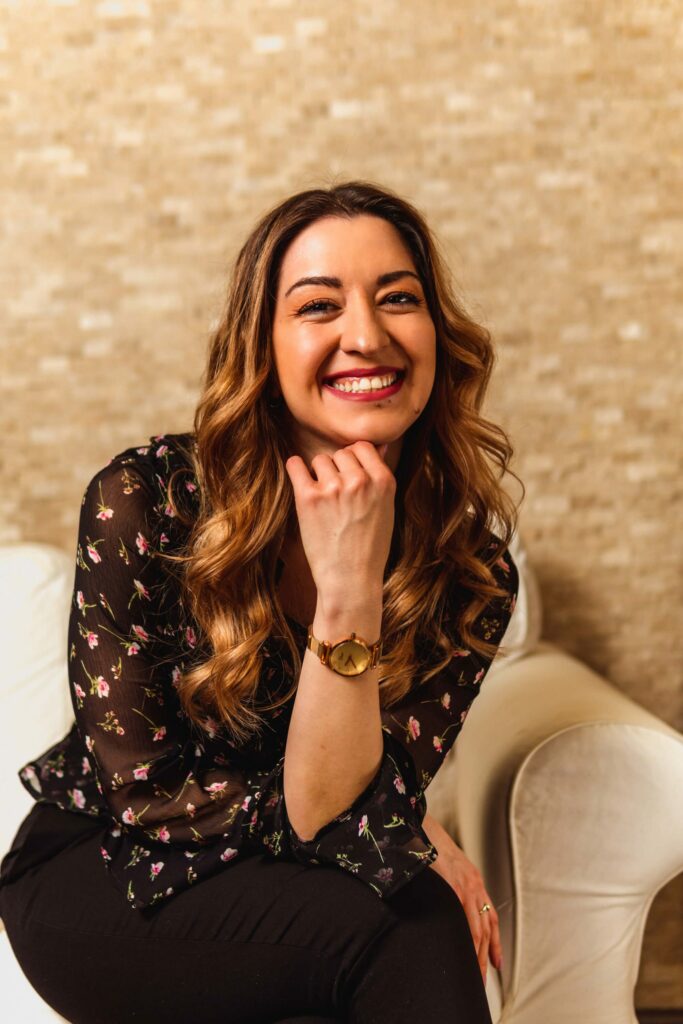 As a Career Strategist & founder of BrandwiserCareerCoaching.com, Matilda brings 9+ years in the HR industry and helps professionals get hired faster. She provides jobseekers with practical tools to uncover their talents, write engaging career documents and rock the interview process without feeling overwhelmed. Her mission is to make job search easy, productive and fun.
Connect with Matilda on Instagram, LinkedIn or visit her website.
#1: Bonjour Matilda, such a pleasure to speak with you today! How are you?
Bonjour! Really excited to speak with you.
I'm doing great. I'm currently spending some time in Brazil, combining work and holiday. The perks of remote work. (That also means having a few 6AM client calls, but for me, escaping a bit of the European winter, makes it worth it.)
#2: Let's speak about your recent activity, you've published an ebook, congratulations! Could you tell us how the idea came to your mind?
I know that looking for a job can be stressful, and sometimes even feel like a full-time job. My mission is to simplify the process and focus on bringing positive results fast. I personally believe that the best way to get a job is by networking and building a strong personal brand. (You see now why my business name is Brandwiser = how to brand yourself in a wiser/smarter way.)
Networking is about building genuine, long-term connections, but I know that many people avoid reaching out to other professionals, because they are afraid of saying the wrong thing. And I want to change that, so I decided to develop a guide with fill-in-the-blank templates that anyone could easily customize and send to relevant contacts to nurture and expand their network.
While working on that networking guide, adding other job search related templates felt very natural. What started as a guide with networking templates developed to be an 82-page ebook with 27 job search email templates.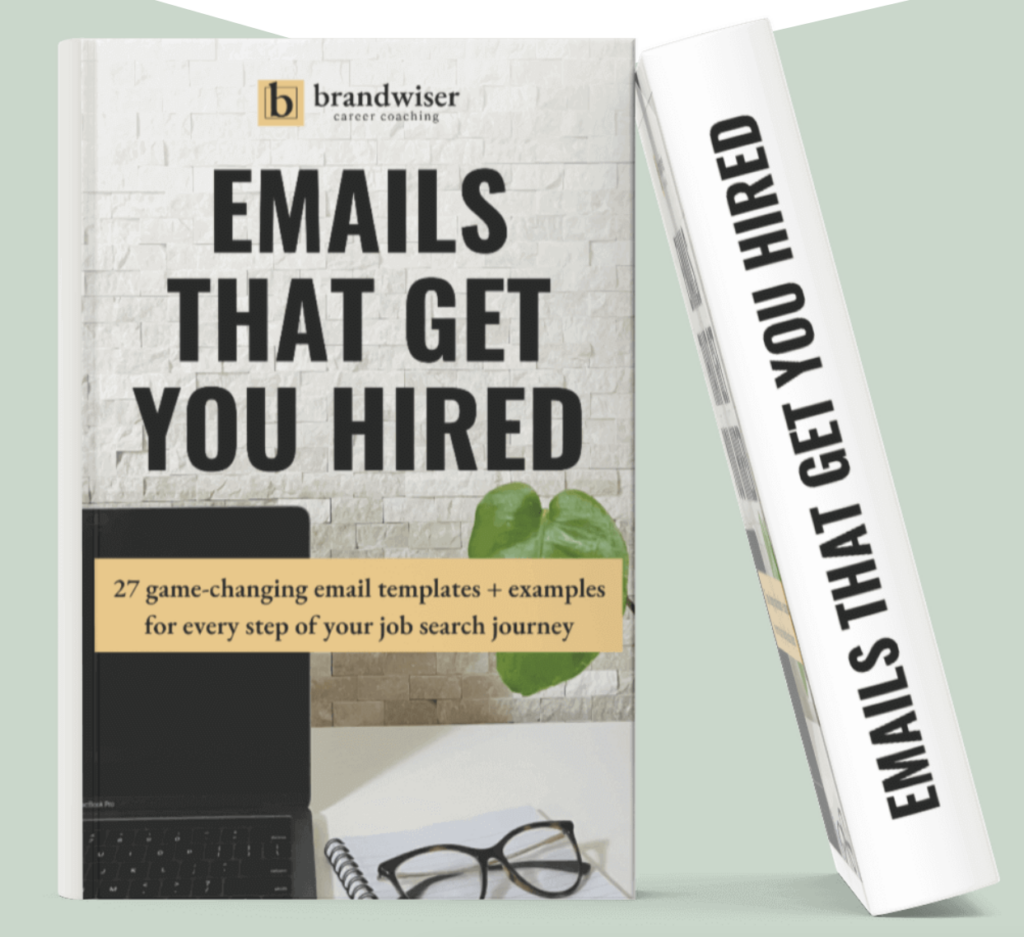 There you will find templates, examples and tips on what to say at every stage of the job search process, from job application to offer. It's basically a step-by-step guide with templates for every situation a jobseeker might find themselves in, while looking for a job.
#3: Could you guide us through your ebook and how it can be impactful?
Definitely! The ebook includes 27 email templates that can be used to send personalized messages to recruiters, hiring managers and your network in no time. Specifically, you'll find templates that will help you leverage your existing network, make new connections, strengthen your job application, successfully follow up after a job interview, and negotiate or even decline a job offer.
Whether you want to tell your existing network you are looking for a job, make new cold connections on LinkedIn, follow up when you don't hear back after a job interview or respond to rejection, I've got you covered. You'll also find real examples of how the templates work in action, as well as detailed tips for every step of your job search journey.
I've also included 3 bonuses:
A section on how to write catchy email subject lines that make a strong first impression.
An email signature guide with detailed tips on how to set up a professional email signature.
A job search tracker to help you keep track of your networking, job applications and all other job search activities.
All in all, I believe this ebook is a great place to start for jobseekers who want to grow their network, improve their confidence, accelerate their job search and get hired faster
#4: After emailing, it's time for the interview process, often a source of anxiety for many candidates. Where to start?
First of all, congratulate yourself for being invited to an interview. After that, start preparing! There are no secrets here. The best way to relieve stress and feel confident during a job interview is to practice beforehand.
STEP 1: DO YOUR RESEARCH
Start your prep by researching the company and the interviewers.
Company research is critical for 2 reasons: not only will you be better prepared to answer the classic "why do you want to work here" question, but you'll also find out whether the culture, values and mission of the company are a good fit for you.
Research the company's website and career site —paying special attention to their culture—, google them, find press releases, take a look at their social media and Glassdoor reviews, and don't forget to ask your network, specifically current or past employees.
After researching the company, you also want to research the interviewers. Ask for a list of interviewers, find them on LinkedIn and identify areas you might have in common. Did you study at the same University? Do you have mutual connections or common interests? Take notes and prep some questions that are specific to them.
STEP 2: DECIPHER THE JOB DESCRIPTION
In order to be able to show the interviewer that you are the best candidate for the role, you need to know exactly what the role is about. Read the job description carefully and ask yourself, "Who are they looking for? What skills do I need to have? What is their goal? What are they trying to accomplish?" Once you identify the skills required and goals they are trying to achieve, you can incorporate those in your answers.
A quick exercise I do with my clients is to create a table with 3 columns: in the first column you want to write all the requirements for the role. In the second one, you'll add a yes or no, depending on whether you match that requirement or not. In the last column, you'll add a specific example that showcases each skill/requirement. You'll then use these examples to answer the behavioral questions they are going to ask —you know, those "Tell us about a time when …" questions.
STEP 3: PRACTICE PRACTICE PRACTICE
While you cannot predict every interview question the interviewer is going to ask you, there are a lot of commonly asked questions, such as "Tell me about yourself.", "Why do you want to work here?", "Why do you want this job?", "What are your strengths / weaknesses?". Prepare for these and if possible, practice with a career consultant or even a friend or family member.
Don't forget to prepare for behavioral questions, too —do the table I mentioned above—, using the STAR (Situation, Task, Action, Result) method. Lastly, prepare for the possibility that they ask a question you don't know how to answer. A strategy you can use is to slowly repeat the question, while you take some time to think about your answer. Remember that it's okay to take your time; you are a human being, not a robot.
STEP 4: DURING AND AFTER THE INTERVIEW
What most candidates don't realize is that a job interview is a great place to be. Even if you don't get the job, you can practice your interviewing skills, make connections in the industry and do market research to really understand your worth.
Remember to take notes and make sure to ask questions during the interview. They are interviewing you, but you need to interview them too. How else can you be sure you are making the right decision if you get an offer? My last, but really important tip is not to forget to send a thank you note to the interviewers within 24 hours of the interview. You can get a fill-in-the-blank template in my ebook.
#5: What are the most memorable projects you've worked on so far?
I really enjoy working with career changers. It's unbelievable how many experienced professionals with 10, 20, sometimes even 40 years of experience are lacking the confidence to change careers. And I get it. We grew up thinking that we have to follow a specific path: go to University, get a job, work our way up the corporate ladder etc. The reality though is that today's career paths are not linear. Our values change, so how can our career interests remain the same?
For me every project is special and I'm so proud of all the hard work my clients are putting in. Just to name a few examples: I've helped a Teacher become a Web Designer, an IT Manager move to Pharma and lead a Sales team, a Project Manager become an L&D consultant, and a Sales Manager become a Data Analyst. You see, everything is possible!
Our first sessions typically start with something like: "I'm too old.", "I don't have the right education.", "What will my family think?", "There's someone better." The first step is to work on reframing these limiting beliefs. We then identify their skills, interests and values and explore career options. They then move on to have informational interviews and try things out. It's an exciting process and I always love seeing how they start believing it's possible for them, and then they go and make it happen.
If you are thinking about changing careers, but are afraid to do so, I'm here to tell you everything is possible. If they did it, you can do it, too.
#6: What would be your creative advice for someone who is unhappy at work?
If you are clear on what you want to do, get started. Explore opportunities at your current workplace and look externally, too. Inform your existing network and be specific about the role/industry/company you are looking for. Use LinkedIn to connect with professionals who already do what you want to do and ask them for advice on how to get there.
If you are unhappy and confused about your next career steps —which unfortunately is very common regardless of the stage professionals are in their career journey—, then my best tip is to work with someone that can help you uncover your skills, values, interests and motivators, so you can gain clarity and make the right decisions towards career satisfaction.
#7: What could we wish you next?
I feel so lucky to be doing what I love and having the freedom to decide where and when I work. Over the past years I have been offering 1-1 career coaching and personalized programs to job seekers. As a next step, I want to support even more professionals to also be in jobs they love.
After working with 200+ professionals, I realized that most candidates struggle with job interviews: They don't know how to prepare effectively and how to communicate their value to the potential employer — and many are not even aware of the value they bring. I want to change that, so I'm currently working on a self-paced interview prep course that I'll be releasing over the next few months. It will include best practices and specific examples to help professionals prepare for every part of the interview process, gain confidence and take control of their next interview. I can't wait to share more details with you soon!
Thank you, Matilda!
Date of Interview: November 2022